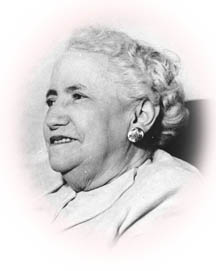 Giants walk among us. Yes, they do. Their passing may be forgotten in time, but their footprints remain embedded in our souls.
You may not have heard of Jesse Linde. Mrs. Archer E. Linde, if you must be formal. Lady Linde or the Duchess if you are feeing affectionate. That is your loss, your very grievous loss.
If anyone can be said to have established culture in Phoenix, it is Mrs. Linde.  You might call her a cultural entrepreneur, in fact. She sought out the greatest personalities of her day and brought them to the Valley to sing, to play their music, to lecture, to read from their books, to perform in the great plays.
She let nothing stand in her way. Not racism, not ignorance, not the jealousy of those who were envious of her success. She bore the obstacles that came her way like a badge. A badge of pride.
And she was a corker!
Charles Laughton, the Academy Award-winning actor, called her "the toughest and sweetest girl in Phoenix."
When Ezio Pinza, the star of opera and South Pacific, told her that he didn't want to be driven around by someone her age, she told him "my hair may be white but I'm not senile."
Hearing orchestra conductor Eugene Ormandy express surprise that his audience was in shirt sleeves, she retorted "It's May. What did you expect, tuxedos?"
And when pianist/film star Oscar Levant's valet confessed he was afraid to wake his employer, Mrs. Linde pushed him aside and did the job herself.
She was a great respecter of talent, but of ego, not so much.
She dealt with both, of course. She produced the local appearances of personalities as diverse as Cornelia Otis Skinner, Fulton Lewis Jr., Vladimir Horowitz, Victor Borge, Paul Robeson and Marion Anderson.
The latter two presented her with special challenges. Mrs. Linde was the first promoter in the Valley to import Black artists. In those days, Phoenix was a Jim Crow town. Blacks were not allowed in the hotels or the best restaurants. But Marion Anderson was a STAR. You did not lodge her in a tacky boarding house!
Mrs. Linde solved the problem by inviting Marion to stay at her home on oh-so-ultra Palm Lane. She invited her friends and neighbors to a swim party in honor of Marion's visit. She let them know that she would not take "no" for an RSVP.
She took similar steps to guarantee that Paul Robeson, who was not only Black but an avowed Communist, an enjoyable stay. By then the town was realizing that it was in a losing battle. She liked to say that Paul's visit was the true beginning of cultural integration in the Valley.
If Mrs. Linde didn't suffer egos gladly, perhaps it was because she didn't have one. Instead of hiring staff, she sold every ticket herself.  It gave her a chance to know her patrons personally. It also gave her a chance to tell them "You may have a Negro sitting next to you." She didn't believe in segregated hotels, and she didn't believe in segregated audiences.
Both Marion and Paul played to full houses.
She had great stories, including a hilarious one about sharing frog legs with Liberace.  Leopold Stokowski married a Russian princess in her living room and she managed to whisk the publicity-shy couple off to Mexico before the press heard about it. A romantic soul, she cooked a honeymoon breakfast for Leonard Bernstein and his bride.
Mrs. Linde was a trained soprano. Among her classmates at the St. Louis Conservatory of Music was Helen Traubel, the opera star. Perhaps that was why she enjoyed presenting singers the most. Jeanette MacDonald's sold-out appearance here was one of her favorites.
She died Jan. 16, 1965. It had been a long illness. I never had the chance to meet her. But shortly after my arrival here, my boss took me to lunch and told me about her.
Like the city, I fell in love on the spot.
BELOW are some clippings I found referring to Mrs. Linde and her programs.
Dec. 10, 1939. Arizona Republic

Arizona Republic, Nov. 10, 1939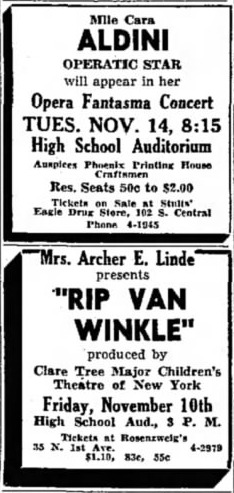 Arizona Republic, Oct. 8, 1939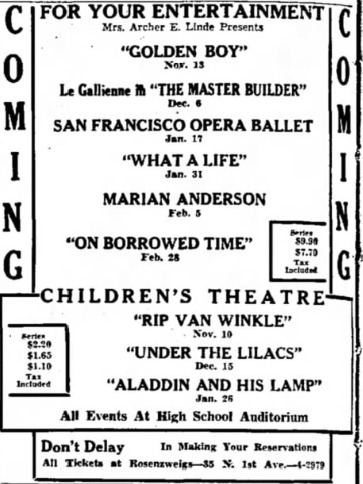 Arizona Republic, Dec. 13, 1938