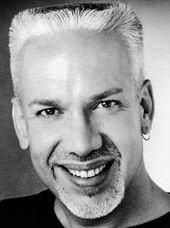 Jerry Wayne Harkey, 59, of Phoenix, AZ passed away on November 23, 2013. He was an iconic figure in the Arizona musical theater community for more than 35 years.
Jerry passed away peacefully surrounded by friends after a long illness. He was born on May 16, 1954 in Cheverly, Md., to Wilson Banks and Lillian (Bryant) Harkey, and spent his childhood in Lanham, MD.
He was preceded in death by his parents. Survivors include his Aunt Laura, cousins, relatives and many, many friends who held him dear to their hearts.
After attending college in Maryland and working in professional theatre in Washington, D.C., Jerry moved to Arizona where he graduated with a Master's Degree in Musical Theatre from Arizona State University.
He won several ariZoni Awards for his musical direction and was well known for his work with Phoenix Theatre, Arizona Theatre Company, ASU's Lyric Opera Theatre, Unity of Phoenix, Xavier College Preparatory and many stage companies, institutions and groups.
Jerry was a gifted musician, teacher and mentor, considered by many to be the finest musical director they ever had the opportunity to work alongside. He was kind, generous, a devoted son and a wonderful friend.
A celebration of his life was held on January 13, 2014 at 7:00 pm at Phoenix Theatre. Further information, condolences, photos, or a favorite memory of Jerry may be posted on www.facebook.com/jerrywayneharkey.
In lieu of flowers, donations may be made to the Jerry Harkey Memorial Scholarship at Phoenix Theatre, 100 E. McDowell Road, Phoenix, AZ 85004, or the Body Positive/Wellness Center, 1101 N. Central Ave., Suite 200, Phoenix, AZ 85004