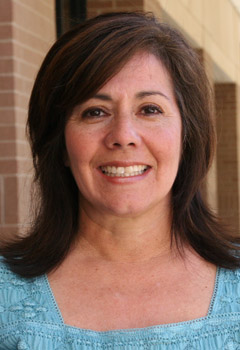 BIOGRAPHY
Julie Amparano is the Writing Certificate coordinator and a Lecturer at ASU's New College of Interdisciplinary Arts and Sciences. She received her M.F.A. in Creative Writing from Antioch University in Los Angeles in 2006 and began teaching at Arizona State University in 2005 as a faculty associate. Serving in the Division of Humanity Arts and Cultural Studies, Prof. Amparano teaches scriptwriting, cross-cultural writing, fiction, persuasive writing, and other writing courses.
In teaching writing courses, Prof. Amparano seeks to apply interdisciplinary and interactive techniques to help bring her students' words to life. Recently, she aligned her scriptwriting class with a directing course, allowing student directors to stage the work of the student writers in a two-night festival. Whether the writing is staged, read, or printed, she pushes students to use their writing to engage and interact with their community. She has guided many students with their internships, independent studies, and writing projects.
Her current writing projects include short stories, plays and nonfiction articles that explore issues of biculturalism and assimilation, in particular in the Mexican-American culture. Her most recent play, A Mother's Will, was nominated for an ariZoni for best original script and overall production. The play also was a winner at 2009 Arizona Women's Theater Co.'s Pandora Festival.
In addition to teaching,  Prof. Amparano serves on the ASU's Commission on the Status of Women. She is the chair-elect of the Hispanic Heritage Committee at the ASU West campus and she serves on several campus groups, including the Online Education Group Task Force, the Events Committee, the Oral History Research Cluster, and the Documentary Studies Organizing Committee. Off campus, she is a board member of New Carpa Theater and a member of the Association of Writers & Writing Programs, to name a few.
PHOTOGRAPHS, REVIEWS & THE KITCHEN SINK
MAY 2014. "Lost Boys Found." New Carpa Theatre, Herberger Theatre Center, Kax Stage. New play by Julie Amparano Garcia.
Imagine an extraordinary new world.  A place where doors open magically.  Pools of water spiral down porcelain bowls and a black box cooks food in minutes.  The Lost Boys of Sudan found that world here, thousands of miles away from the war-torn country and refugee camps they left behind.  Lost Boys Found is a story of the resilience of the human spirit.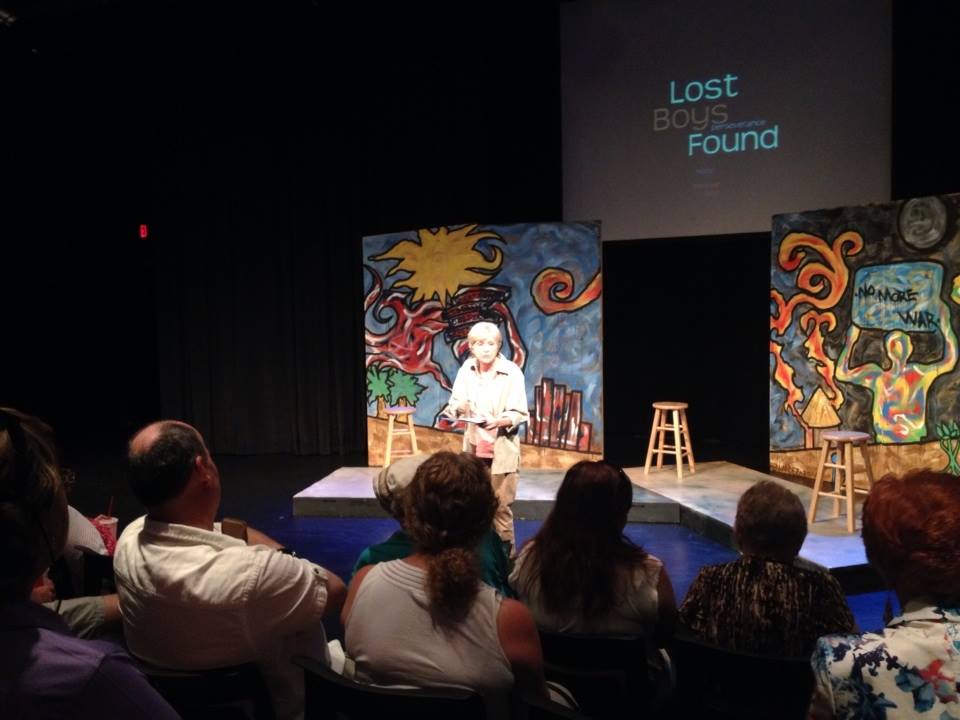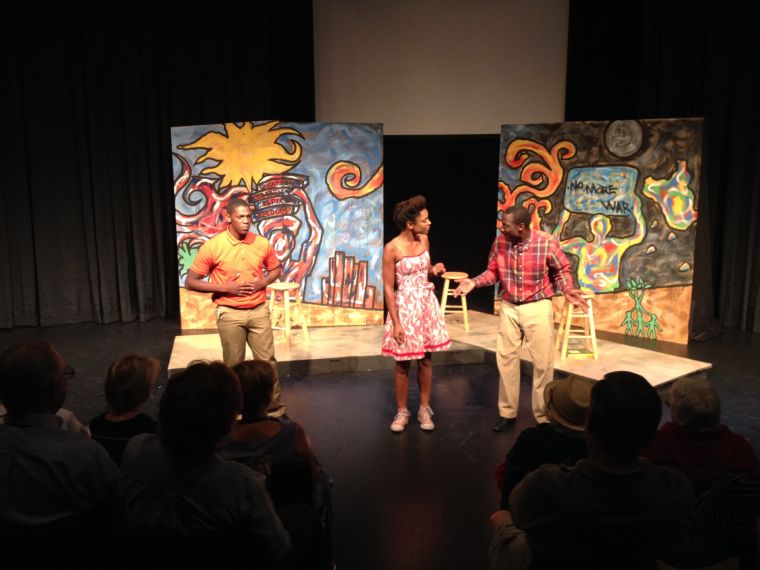 ARTICLE by Allison Hurtado,  Ahwatukee Foothills News
The stories of the Lost Boys of Sudan are being brought back to life through a play showing now at Herberger Theater in Phoenix.
Ahwatukee Foothills resident Julie Amparano Garcia, writing certificate director and lecturer at Arizona State University, was inspired to record the stories of the Lost Boys when one of them began taking her classes.
"He told me his stories and it was just so amazing," she said. "I just started thinking these stories can't be lost… They are so happy all the time. Despite all the terrible things they've been through they have one of the brightest outlooks on life that I have ever seen. Maybe it is because they've been close to death. They know how to appreciate life."
The Lost Boys are a group of 20,000 boys who were orphaned or displaced during the second Sudanese Civil War. The boys were given a chance to come to America and become American citizens in the early 2000s. Many of them settled in Arizona and have gone on to get college degrees. Since 2006 they've been returning to Sudan to try to help their villages rebuild.
Amparano received a grant from the Arizona Humanities Commission and the Social Justice Fund to record the oral history of the boys. So far she has recorded 20 oral histories, which can be found in the ASU Digital Depository, and collected more than 75 short bios and photos.
From those stories, Amparano wrote her workshop production, Lost Boys Found.
"This play will be their narrative," she said. "You'll be hearing the real words and the real experiences of the Lost Boys. It's broken into sections. The first is what happened to their villages and how did war come to them, how did they get separated from their families. The next part is how they traveled across Sudan in areas that were really arid to make it to the refugee camps. The next section is on the refugee camps themselves and life there. The last part is them coming to America."
The show is being presented during the Herberger Theater's Lunch Time Theater now through Thursday, May 15. The show is about 35 minutes. Amparano said she is working on a full-length production that she expects to come out in spring or fall of 2015.
"War is constant," she said. "Kids are being displaced constantly. In this particular narrative it's the Lost Boys, but right now it's Syria and the Ukraine and children are being displaced there. As I develop the play further I want to incorporate some kind of narrator that talks about war in other places. These are the boys who escaped and got free, but what about the other children? I want (the audience) to take away that war is terrible on every level, but nowhere is it worse than for the children. They have their homes burnt to the ground and no place to go and without education and they've done nothing at all."
SEPTEMBER 2009. "A Boy Named Cesar," a play by Julie Amparano Garcia and James Garcia. ASU West Campus.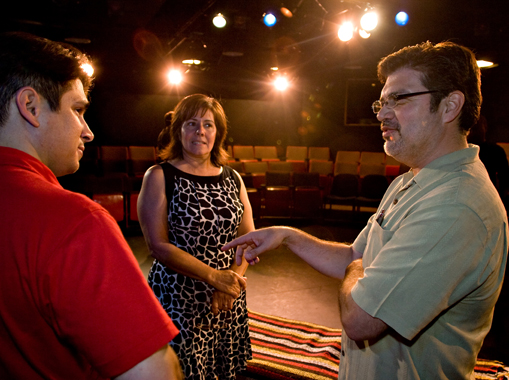 Service
Emerging Voices Student Club

,

Faculty Advisor

(

2013

–

present

)

Social Media Group at the West Campus

,

member

(

2013

–

present

)

Summer Writers Workshop

,

Coordinator/Instructor

(

2012

–

present

)

Summer Writers Workshop

,

Coordinator/Instructor

(

2012

–

present

)

Commission on the Status of Women

,

Volunteer member

(

2011

–

present

)

Commission on the Status of Women

,

Volunteer member

(

2011

–

present

)

Oral History and Ethnography Collaborative

,

committee member

(

2011

–

present

)

ASU's Articulation Task Force

,

member representing English

(

2010

–

present

)

Monte Vista Elementary School

,

Writing Coach

(

2010

–

present

)

First Draft Student Club

,

Faculty Advisor

(

2010

–

present

)

Oral History Research Cluster

,

member

(

2010

–

present

)

Oral History Research Cluster

,

member

(

2010

–

present

)

Oral History Research Cluster

,

Committee Member

(

2010

–

present

)

ASU Commission on the Status of Women

,

member

(

2009

–

present

)

Hispanic Heritage Committee

,

member

(

2009

–

present

)

Hispanic Heritage Committee

,

member

(

2009

–

present

)

Oral History Certificate Faculty Committee

,

Member

(

2009

–

present

)

Oral History Certificate Program

,

Faculty Committee member

(

2009

–

present

)

Oral History Certificate Program

,

Faculty Committee member

(

2009

–

present

)

West Cultural Festival Planning Committee

,

Committee Member

(

2009

–

present

)

Writing Certificate Program

,

Director

(

2009

–

present

)

Writing Certificate Program

,

Director/Coordinator

(

2009

–

present

)

Writing Certificate Program

,

Coordinator

(

2009

–

present

)

Southwest Oral History Association

,

member

(

2014

–

2016

)

New Carpa Theater

,

Board member

(

2002

–

2016

)

Association of Writers and Writing Programs

,

member

(

2009

–

2015

)

Monte Vista Elementary School

,

Writing Coach

(

2010

–

2014

)

Mujeres Activas en Letras y Cambio Social (Women Active in Letters and Social Change)

,

member

(

2009

–

2014

)

Association of Writers and Writing Programs

,

member

(

2009

–

2014

)

National Association of Latino Independent Producers

,

board member

(

2006

–

2014

)

New Carpa Theater

,

Board member

(

2002

–

2014

)

Associated Writers Program

,

Member

(

2009

–

2011

)

Oral History Research Cluster

,

Committee Member

(

2010

–

2011

)

ASU Commission on the Status of Women

,

Committee Member

(

2009

–

2011

)

Documentary Studies Organizing Committee

,

Member

(

2009

–

2011

)

Hispanic Heritage Committee

,

member

(

2009

–

2011

)

Hispanic Heritage Committee

,

Chair

(

2009

–

2011

)

Oral History Certificate Faculty Committee

,

Member

(

2009

–

2011

)

West Cultural Festival Planning Committee

,

Committee Member

(

2009

–

2011

)

Monte Vista Elementary School

,

Writing Coach

(

2010

–

2011

)