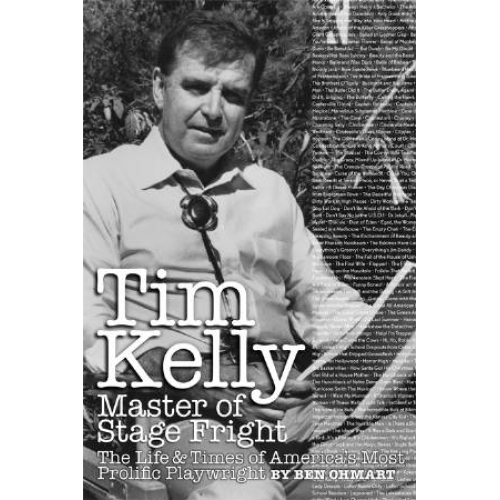 Tim Kelly, who died in 1998, was a playwright who worked frequently with Phoenix Little Theatre and Scottsdale Community Players.
Tim was born in Saugus, Massachusetts on October 2, 1932. He graduated from Emerson College with a bachelor's degree and received a masters degree in play-writing from Yale University. His first stage play was Widow's Walk, published in the 1960s. At the same time, three of his plays opened: A Darker Flower at New York's Pocket Theatre, The Trunk and All That Jazz at Boston's Image Theatre and Die Blum in Germany.
In March 1975, his Frankenstein had its world premiere at Stagebrush Theatre under the aegis of the Scottsdale Community Players.
He wrote more than 300 plays, which have been performed by the Royal Court Rep, the Studio Theatre, Manhattan Theatre Club, Los Angeles Actor's Theatre, the Aspen Playwright's Festival and the Seattle Repertory Company.
He directed Out of This World, On the Town and Road Show for Phoenix Little Theatre.
Kelly was a drama critic and journalist in Phoenix (1965–1967) and was particularly noted for the broad scope of his work, which covered everything from mysteries to musicals to serious drama. He was also a screen and television writer (1968–1978).
In 1995, he became a member of the College of Fellows of the American Theatre.
On December 7, 1998, he died suddenly of a brain hemorrhage in his Hollywood home. He was 61.
A Tim Kelly Collection has been established at the University of Wyoming's American Heritage Center. Emerson College has twice honored him for his "contributions to the field of playwriting."
ACTOR STEVEN MASTROIENI REMEMBERS TIM KELLY
(Steven appeared in the 1975 premiere of Frankenstein.)
"Tim had worked in the Valley with Scottsdale Community Players before and he also worked as the theatre critic for the Arizona Republic and as theatre editor for Point West Magazine. He was a 'fellow' at Yale University for a year.
He lived and worked as a playwright and screenwriter in Hollywood and came back to the Stagebrush to open his new work which was a world premiere.
This was the first time Frankenstein had been preformed. The original book by Mary Shelly was extremely florid, rich and rococo. This was difficult to translate into a viable stage version, according to Tim.
Tim said he considered Scottsdale home and he had a special fondness for the Stagebrush and Scottsdale Community Players, and that it was a luxury to take time off from filming to come back for five weeks to put Frankenstein 'up'.
It was very exciting for me, a young actor to have the experience of working with the writer as director and being in a premiere. The  show was both a critical hit and an audience favorite. Performances sold out."
JUNE 1959 
ROAD SHOW 
Playwright: Tim Kelly.
Director: Tim Kelly
Cast: Paula Sobol, Irma K. Lange, Grace Etchen, Susan Francis, Don Seth, Jay Fineberg, Bob Dunnen, William Van Loo (Bill Van Loo), John Wesley Dear, Dorrine Maron and a troupe of actual Cub Scouts.
Notes: Susan Francis was 14 1/2, according to the papers.